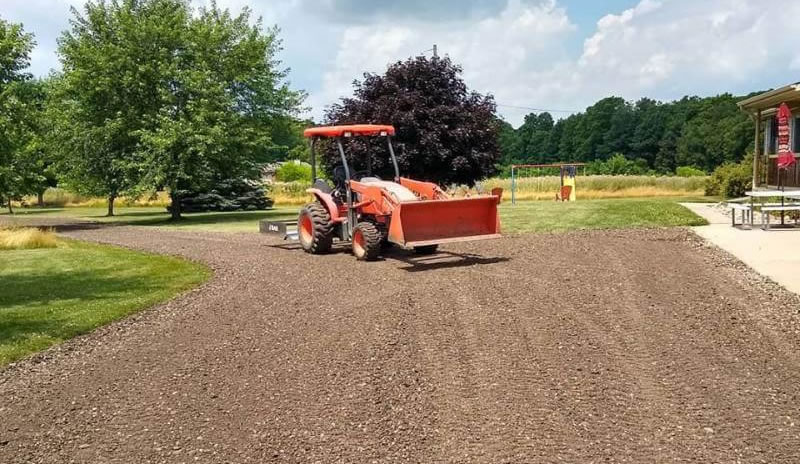 Gravel Driveway Construction & Installation
We Specialize In Installing New Gravel Driveways 
Does your new construction project call for the construction of a new driveway?  Do you want a gravel driveway installed on your rural property?  The cost of paving the driveway probably scares you!  The best alternative is usually to have a gravel driveway installed.  When properly graded and installed properly a gravel driveway will last for years and they can always be resurfaced down the road to get that like new appearance at a fraction of the original cost of construction.  There are a variety of different grades and colors of gravel available to achieve different looks.
R&H Tractor Services is based out of Hastings, MI and serving Southern Michigan including Kalamazoo, Grand Rapids, and the surrounding area.  We specialize in installing new gravel driveways for our clients.  From the initial preparation and grading to building up the base and installing and spreading the top layer of gravel we'll take care of everything.  From a winding driveway for your rural property or a small gravel frontage road, we can help.
This Project Below Is A Great Example Of Our Driveway Installation Services
This old gravel driveway once led to a beautiful cabin in the woods.  Just like the cabin, the driveway has far deteriorated to the point of failure.  R&H Tractor Services was hired to rehabilitate this old driveway.  Our first step was to scrap away the topsoil, luckily for us, when the driveway was originally built they used large trees as the base followed up by large stones.  Once we got down to the original driveway, we brought in three inch crushed concrete.  The crushed concrete acted as our base.  After laying the base we finished the surface with one inch minus crushed concrete.  Once all of the material was laid on the new driveway, we put the proper grade on the driveway.  The proper grade includes a good crown in the center of the driveway.  This gave the driveway a good finish that will last for year to come.
R&H Tractor Services uses a Kubota L45 with a six foot land plane for our driveway grading and refinishing projects.
More Gravel Driveways We've Installed
Gravel Driveway Construction
New gravel driveway construction
Gravel driveway maintenance
Gravel driveway renovations
Gravel parking pads and building pads
Driveway removals
Driveway additions or round-a-bouts
Driveway drainage corrections
Contact R&H Tractor Services today, and we will provide you with an estimate to install a new gravel driveway on your property. Call us now at (269) 205-3762 or fill out our online contact form and we'll get right back to you.